San Diego is great. Maybe because it's typically 90°F in Philly when I leave and 70°F when I land in San Diego. Who knows? What I do know is that I'll be there next week at the 2016 Esri User Conference. I don't have any presentations this year, which is a first, but I'll be reppin'. I'll be arriving in San Diego on Sunday (6/26) night and be on my way back to Philly on Thursday (6/30) morning. Come find me! Want to meet up? Shoot me an email (wesweaver1@gmail.com).
Here are some things I'll be up to:
Opening Plenary

The Opening Plenary is the pep rally for the Esri Platform and the kickoff for the whole conference. It is long. Bring a snack. The formula is basically the same year-to-year. Jack Dangermond will come out, talk about the world-changing influence of GIS, talk about the new features, and share the future direction of the Esri platform. Then some featured guests will trot out and talk about their work. A few years ago I got to see the Philly Police Department talk about about their use of ArcGIS Online to track crime and saw some familiar faces. There will be some gags, like last year's GIS Rap Battle. Jack will eventually sit down and have a heart-to-heart with someone of note (no idea who that will be yet, but in 2013 it was Black Eyed Peas front man will.i.am).
Map Gallery Opening Night

I love the Map Gallery (particularly, the map gallery opening night–free beer and food? Absolutely, thank you). It's fun to wander around and look at the work that the GIS community has collectively thought up. The Map Gallery is also a great place for networking. I had a map displayed at the 2013 Esri UC Map Gallery and it landed me a job!
Academic GIS Program Fair

My first UC trip was sponsored by PennIUR right after I graduated from my Master's program at the University of Pennsylvania. In exchange, I helped out at the table at the UC Academic GIS Program Fair. It was great. There are tables for different University GIS programs as well as continued learned and extended programs to help both students and professionals alike. It's also a great place to go to get an idea of what academic programs are focusing on these days, as it changes all the time. I like to go every year and meet the new crew of Penn grads representing.
CGIA Pizza Night

The California Geographic Information Association (CGIA) is hosting a pizza night event at San Diego's Basic Urban Kitchen. I'll be attending with a good friend and coworker of mine from our West Coast office, but if you're a California GIS user and are interested in becoming involved with the CGIA, come on by! But be sure to RSVP here.
Mapbox Party on the USS Midway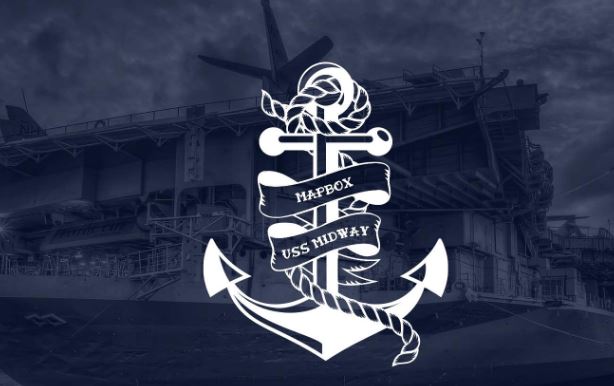 What's a conference without a good 'unconference' party? Mapbox is hosting a not-so-secret party on the decks of the U.S.S. Midway, a Cold War/Vietnam War era aircraft carrier-turned-museum with a storied history. Let's be real–Mapbox is a pretty cool company. If you're interested in attending, RSVP here.
Go to a Padres game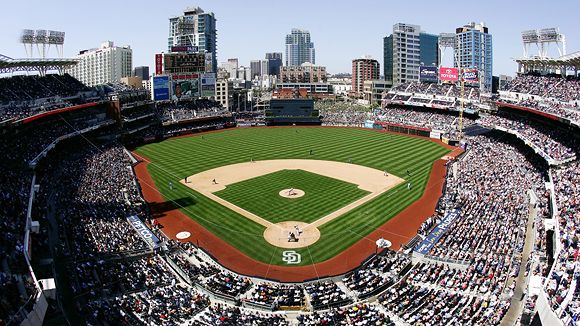 I'm a huge baseball nerd, but I barely noticed the Padres existed before I attended my first UC. The stadium looms large over the conference center, just a couple blocks away. I got discounted box seats through Esri my first year (2013) and kinda-sorta became a Padres fan after that. Esri offers these discounts through a referral service here. I highly recommend it. I'm not sure if I actually have time to go or which game I'll be at but you better believe I'm going to try.
Spend every free moment in the EXPO Hall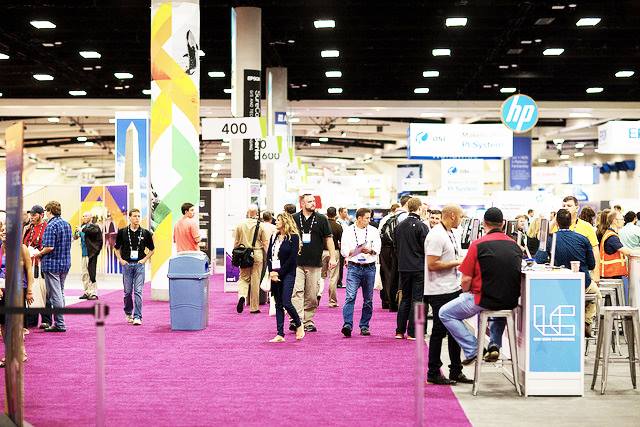 The Esri UC Solutions Expo is big. Massive, even. Just take a look at the list of exhibitors this year. Last year, I spent hours wandering around, picking up free stuff, and meeting so many people who work on the projects and products I know so well. I recommend you get lost and learn something. Don't be afraid to go chat with the people at the booths. They're there to work for you, and they're happy to help you out.
So many sessions, so little time

These technical sessions make up the backbone of the Esri User Conference. This is where you might actually learn a thing or two. Typically an hour an 15 minutes long, dozens of them run concurrently making it nearly impossible to see everything you want. Buck up though, several of them run multiple times through the week so if you miss one once, check to see if it's happening later in the week! Check out the full detailed listing here. Here are a few I'm particularly interested in:
Drink some Stone IPA

We all know that for those of us who like beer, conferences are about sampling the local brewery work product. I fell in love with Stone Brewing's IPA during my first visit to San Diego. In this city, Stone Brewing is the cheap-ish local brew, akin to Philly's relationship with Yuengling. It's not impossible to find Stone Brewing beers in Philly, but by the time it gets here it's no longer cheap. The Esri UC has become an annual ritual in which I rekindle my love of Stone IPA.
And so much more…
This is just a preview and does not nearly scratch the surface. This is a mind-bogglingly large conference. Whether you're going for your first time or your umpteenth time, you not have seen it all. Good luck. Hope to see you there!