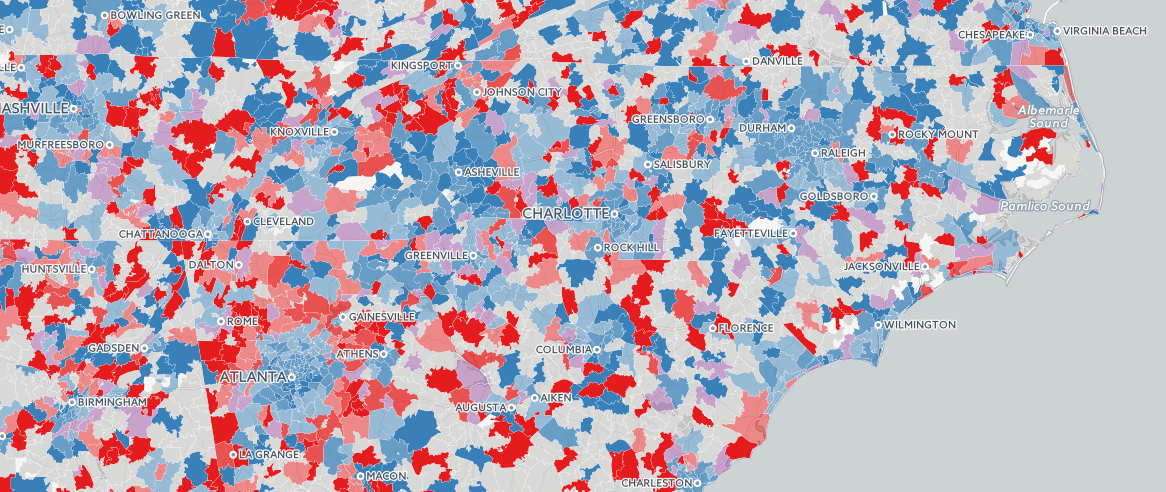 Zooming out, again.
Due to the (relative) popularity of my last post on Presidential candidate support in PA, I've written a follow up. Using the same methods described in that post, I removed the location filter and generated a list of all donors to each candidate across the entire United States. The script combed through the 11-some million records over the course of a few overnight hours. If you want to skip ahead to the map, you can view it directly here.
It should be noted that I used national Zip Code Tabulation Areas (ZTCAs) from the U.S. Census Bureau. These are not the same as zip codes. Some areas (particularly those with a very small human population) are not covered by ZTCAs. This is because some zip codes represent single points in space and do not cover 'territory' as we would be familiar. You'll notice a lot of voids out in the deserts in the West. It is possible that a few donors have been dropped from the final tabulation. I should also note that the ZTCA files are enormous. To get a final dataset that I could load and render properly across the web, I used Esri's ArcGIS Pro 1.3 to simplify the polygons, removing a large number of vertices while retaining the general coverage areas of each ZTCA.
I will once again point out that the Federal Election Commission (FEC) data only accounts for donors who have given upwards of a total $200 across their donations. This leaves out anyone who has given less. This may bias the results toward more wealthy donors, but I believe it to be a fair representation of support. That's not to say that the election will follow similar lines, but it does help define each candidate's 'base.'
Does Clinton Maintain a Lead?
Yes. More on that later.
The map below shows the distribution of donors to each candidate across the country. They are colored by percent of the total donor count that went for the majority candidate. Keep in mind that some area may only have a single donation to a single candidate, so an area that is 100% for Clinton may only have 1 donation to her and be next to an area that is 75%, but has 3 donations to 1 for Trump. You can click each zip code to find more details. You will also see results for U.S. territories, such as Puerto Rico, Guam, American Samoa, etc.
Overall, it's clear that Clinton maintains a large donor advantage over Trump even at a national level. Clinton racked up 84.64% of all donors who gave $200 or more. There were 329,791 such donors, of which 279,124 gave to Clinton and 50,667 gave to Trump.
Share of Donors by Candidate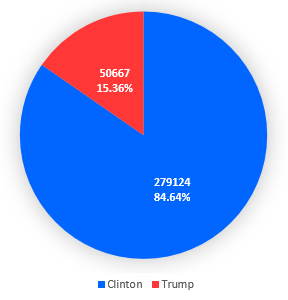 Below is a chart demonstrating how many donations each candidate collected over time. It looks a lot like the Pennsylvania statewide data, with both candidate seeing a surge in donations following their party conventions. We also see that Clinton's surge was much larger than Trump's.
Sum of Donations over Time – Nationwide
If we summarize each candidate's donors by state, we can see which states contributed the most to each. For both Clinton and Trump, the state with the largest number of contributions was California (56,199 for Clinton and 5,796 for Trump). Following California, Clinton had the most donors in New York (35,575) and Texas (16,029). For Trump, this was followed by Texas (5,716) and Florida (5,081). Clinton bested Trump in donors in every state except for Mississippi, where she had 444 donors to Trump's 533, a difference of 89. This isn't terribly surprising, as FiveThirtyEight currently shows a poll average putting Trump ahead by over 10 points in the state. By the same logic, however, it's interesting that Clinton found more donors in Alabama than Trump (1300 to 902) while the average has Trump up by nearly 20 points.
Total Donors to Each Candidate by State
Conclusions
With the election just 12 days away at the time of this writing, I don't know if there is any more speculation that I can offer. Clearly the Clinton campaign had the fundraising game thought out, and it extended past just swing states like Pennsylvania. That she was able to out-raise her opponent across the U.S. may be indicative of what's to come. There's a lot of handwringing going on wright now about whether or not the polls are tightening in the last two weeks, but most tend to give Clinton a clear advantage.